Everyone knows the story of The Lord of the Rings, but nobody knows The Truth.
Who was Tolkien?
Edit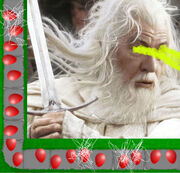 Contrary to popular belief, Tolkien didn't invent Middle Earth, Middle Earth was a real place that really existed, Tolkien knew
The Truth
. Tolkien didn't want
The Truth
to be widely known, though - because that would make some of his characters look rather foolish, having to cover up their own plots. Instead, he wrote a tale that made sure that people would remember Gandalf as a great wizard, and Sauron as a foolish master of evil.
This REALITY is about the chain of events that starts with Gandalf legalising Sauron into existence...
Community content is available under
CC-BY-SA
unless otherwise noted.