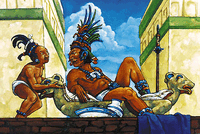 Thousands of years ago, the Mayans ended their calendar on the date December 21st, 2012. Since then, many have believed that this signifies that the world will end. Nostradamus made similar predictions, citing that the world is close to it's end.
The TruthEdit
The Mayans were actually the original trolls. Using their powers of prediction and high on crap loads of herbal ancient drugs, they decided that it would be hilarious to see how future generations would panic if their calendar suddenly stopped. Knowing that future generations would decline in intelligence, their plan was fool proof. Picking a random date, they burned the rest of their calendars and died laughing as they awaited the results of their trolling.
Waiting hundreds of years in Heaven, the Mayans finally got their laugh as end of the world theorists began looking to the Mayan calendar as proof that the world would be ending. The date of Rapture was moved to coincide with it, Nostradamus predicted as well that the world would end then. All the meanwhile the Mayans sat there, laughing their asses off.
Today, the Mayans look forward to December 21st to see everyone's reactions when their troll is revealed.
Community content is available under
CC-BY-SA
unless otherwise noted.